The free edition of our deep-sampled multi-format virtual upright piano!
LivingRoom Upright Piano
Free Edition
Because your song writing & production skills
deserve a better and more authentic piano sound
Produced for multiple samplers & DAWs, this free upright piano library was made specifically for musicians and song writers who need a better piano to replace your generic or included DAW sounds, or simply add more (or different) flavour to your piano tracks.
Support us & get the Complete Edition ahead of time!
Are you a producer, songwriter, musician or pianist? Then we need your help during our Indiegogo campaign that we are running at the moment. As a backer on Indiegogo we're offering you 15-20% off the LivingRoom Upright Piano Complete Edition!
Help us make it all it can be!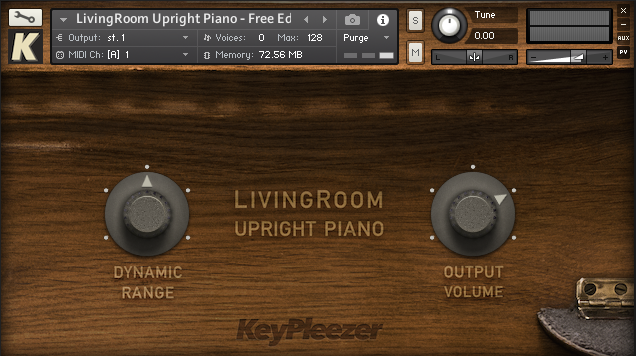 The free edition features:
Close Microphone Position
Detailed & Intimate Upright Sound
6 Unique Samples Per Key
3 Velocity Response Sample Layers X2
(Piano, Mezzo & Forte – Pedal Off + Pedal On)
Dynamic Range Control
Pre-track Volume Control
258 24-bit / 44.1khz Samples
Multi-format Support (Kontakt, EXS24 & more)
Mac & PC
Download the
LivingRoom Upright Piano
Free Edition now

Latest version is v1.0. You´ll recieve download links after confirming your email address.
Our send frequency is low and we will never spam you!