The LivingRoom Upright Piano – Free Edition for Kontakt sampler!
Free Upright Piano Library for Kontakt Sampler
Because your song writing & production skills
deserve a better and more authentic piano sound
A rustic, aromatic and detailed (and free) multi-sampled upright piano for Kontakt for musicians or composers in need of an authentic piano sound that can replace the perfect, perhaps a bit stale, sound of a grand piano. The LivingRoom Upright Piano free edition is alive & slightly out of tune.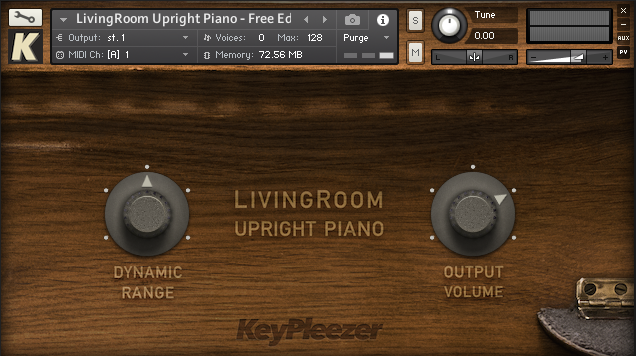 Our free Kontakt piano features:
Close Microphone Position
Detailed & Intimate Upright Sound
6 Unique Samples Per Key
3 Velocity Response Sample Layers X2
(Piano, Mezzo & Forte – Pedal Off + Pedal On)
Dynamic Range Control
Pre-track Volume Control
258 24-bit / 44.1khz Samples
Multi-format Support (Kontakt, EXS24 & more)
Mac & PC
The free edition of our upright piano for Kontakt works in all versions of Native Instruments Kontakt Sampler full version v5.0.1 and above. There are two separate options for downloads, one consisting of 24-bit / 44.1khz sound files and an alternative download with lossless compressed NCW audio files. The .ncw sound file format is a proprietary compressed wave format, delivering lossless sound compression at around 40-60% of the sample size. Same sound, just smaller size.
The instrument consists of 256 samples recorded in 24-bit / 44.1khz and the main download (multi-format download) includes .wav audio files at a total size of 1.5GB (zipped: 1GB / unzipped: 1.5GB). The .ncw lossless compressed download has an unzipped size of 730MB.
All audio files are taken from our full instrument (currently in production). Samples were chosen from the first stereo microphone position, above keys in player position which produces very high realism. This microphone position is aimed at detail and intimacy, offering accurate representation in a wide stereo image of the most intimate part of the upright piano.
Don´t take our word for it, decide yourself!
Download our Upright Piano now

Latest version is v1.0. You´ll recieve download links after confirming your email address.
Our send frequency is low and we will never spam you!