Free Upright Piano for Ableton Live Simpler & Sampler
Our Vintage & Character upright piano will make your piano based songs sound more realistic & intimate
We sampled an older vintage and character upright piano using A/B wide and close microphone positioning. This results in an intimate uptake of a slightly out of tune piano that can make a big difference in your productions or song writing sessions.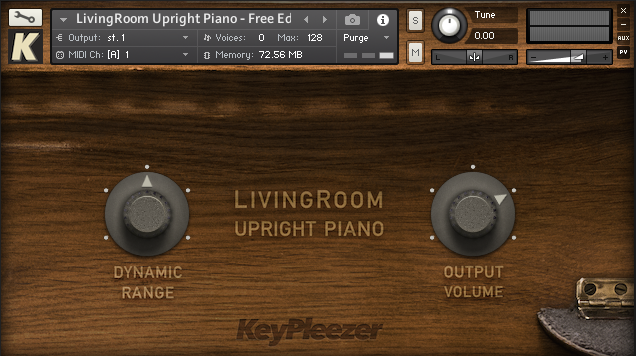 Free upright piano features:
Close Microphone Position
Dynamic Range Control & Pre-track Volume Control (in Kontakt sampler)
Intimate Vintage Character Upright Piano Sound
6 Unique Samples Per Key
258 24-bit / 44.1khz Samples
Multi-format Support (Kontakt, EXS24 & more coming soon)
Watch video below for info about Ableton Live integration!
Piano plugin for Ableton Live – VST/AU release
We've been working on a VST / AU (audio units) version of this free piano. The piano plugin is currently in beta and we are planning to release it fairly soon. Download the piano soundware we got at the moment and we'll let you know when the VST piano plugin is ready!
In the meantime, learn how to use the piano in Ableton Live…
How to import a EXS24 instrument in Ableton Live Simpler or Sampler
It is not natively made for Abeleton Live, but using the built in Simpler or Sampler softwares in Ableton, you can import our version for EXS24, or use our free instrument in Kontakt sampler (v5.0.1+). Watch the video below on how to import our EXS24 instrument patches into Ableton Live Simpler:
A walk-through of how to handle importing of exs24 or Logic Pro X / GarageBand or MainStage instrument files in Ableton Live using "Simpler"
This instrument contains 256 unique stereo samples recorded in 24-bit / 44.1khz at a total file size of 1.5GB when using the .wav samples, which are the included audio file format for the EXS24 instrument patches. The downloadable package is called "Multi-format" and it includes all available formats at the moment. For Kontakt users only, there is also a .ncw download, with Native Instruments compressed wave files.
For Ableton Live 11 users it will be an alternative to the included sound library and for users of Ableton Live 10 and below, it´s an essential addition.
Try it out and find out what it will do for your song!
Get free upright piano now!

Latest version is v1.0. You´ll recieve download links after confirming your email address.
Our send frequency is low and we will never spam you!